Hardscapes in Tampa, Clearwater, Fish Hawk, Pinellas Park, St. Peterburg & Surrounding Areas.
A beautiful landscape can be made more enjoyable and special with the right hardscape. A hardscape is any hard material that are incorporated into your landscape, like patios, retaining walls, walkways or fire pits.  They are a great way to turn your current lawn into a beautiful landscape that is more enjoyable and has more functionality. A properly designed and installed water feature, patio, or fire pit can even increase the value of your property. So if you are looking for a way to spruce up your current landscape or want a whole new concept for your outdoor areas, contact the Tampa hardscape professionals at The Whole 9 Yards today!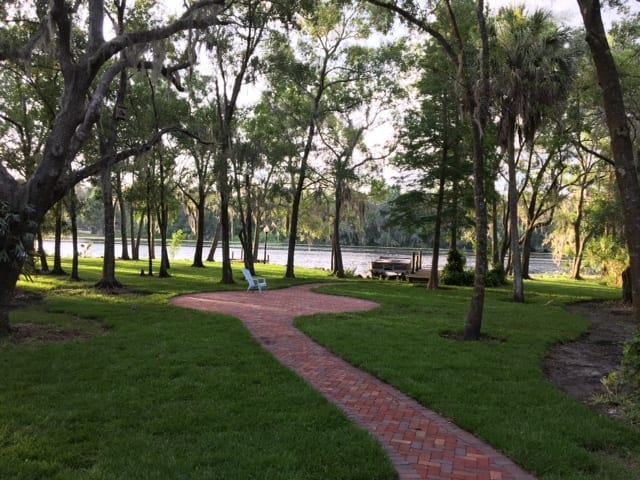 Choose The Whole 9 Yards For Hardscape Design & Installation in Tampa
You should trust anyone to design and install your hardscape. It doesn't matter if you are creating an entirely new landscape or just adding on to your existing landscape, there are a number of things that need to be taken into consideration.  When planning to install any hardscape, you should account for such as the type of land, the size of the outdoor space, and what already exists in the surrounding area. At The Whole 9 Yards, we will work with you to determine which hardscape or outdoor structures are suitable for your outdoor areas. We will also create a strategy to make sure that the hardscape installation process goes smoothly so that you will have the landscape you have always dreamed of.
Tampa Hardscapes We Offer
Paver Patios
Water Features
Fire Pits
Sitting Walls
Pergolas
Flagstone
Rock Landscape Beds
Retaining Walls
And More!
Contact The Whole 9 Yards For Hardscape Installation & Hardscape Design Tampa, Clearwater, St. Petersburg & Beyond
Hardscapes are man made structures that can make any landscape more beautiful and functional. The Whole 9 Yards can help you choose and design the right water feature, retaining wall, firepit, pergola or other structure to perfectly accent your landscape. Not only can a hardscape make your landscape more beautiful, it can also increase the value of your property. We provide hardscape design and installation to both residential and commercial customers throughout our entire service area, which includes, but is not limited to: Tampa, St. Petersburg, Clearwater, Riverview, Pinellas Park, Brandon, Valrico, Plant City & Beyond. We also provide landscape design, landscape maintenance, and outdoor lighting installation. For a free consultation on hardscape design in Tampa, contact us online or call us at 813-684-1807.